14 song CD
                   FAN'S FAVORITES
available on December 14, 2020!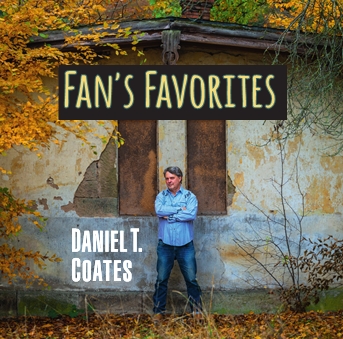 Just drop us an email at dtcoates@aol.com and tell us how many CDs you want and how you prefer to pay! And of course send your mailing address!
IN EUROPE: 
16 Euros includes postage.
15 Euros per CD if you order more than one CD!
OUTSIDE EUROPE:
If ordering from outside Europe we will tell you the exact cost by email.
Kontovervindung/Bank Account
Targobank
IBAN: DE02 3002 0900 0408 6020 63

BIC: CMCIDEDDXXX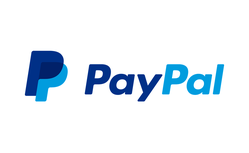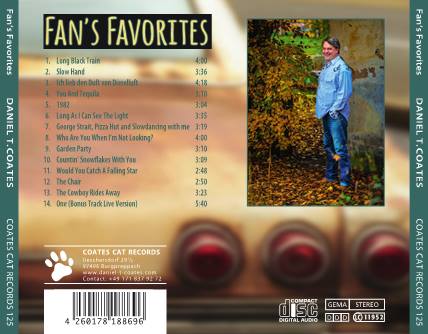 MUSICIANS
+Daniel T. Coates: lead vocals, guitars, electric bass, piano, trumpet, percussion, slide 
+Clemens Schirmer:           drums, harmony vocals
+Gabor Bardfalvi:               upright bass
+Dietmar Waechtler:           pedal steel and dobro
+Aaron Till:                        fiddle
+Gregg Stocki:                   drums
+Thomas Schoenheiter:      sax and Wurlitzer
Artwork:
+Thomas Schoenheiter:      CD artwork design
+Lonnie Dale:                     cover and booklet photos
+Christopher Gabel:            steam engine photo
+Daniel T. Coates:              Impala and various musician pics
*Mastered by Tony Becker Bluemountain Mastering in Florida and Nashville
*Produced by Gunter Wenzel and Uschi Bamberg
LONG BLACK TRAIN
SLOW HAND
ICH LIEB DEN DUFT VON DIESELLUFT
YOU AND TEQUILA
1982
LONG AS I CAN SEE THE LIGHT
GEORGE STRAIT; PIZZA HUT AND SLOW DANCING WITH ME
WHO ARE YOU WHEN I'M NOT LOOKING
GARDEN PARTY
COUNTIN' SNOWFLAKES WITH YOU
WOULD YOU CATCH A FALLING STAR
THE CHAIR
THE COWBOY RIDES AWAY
ONE